What's Trending in Bridal Attire?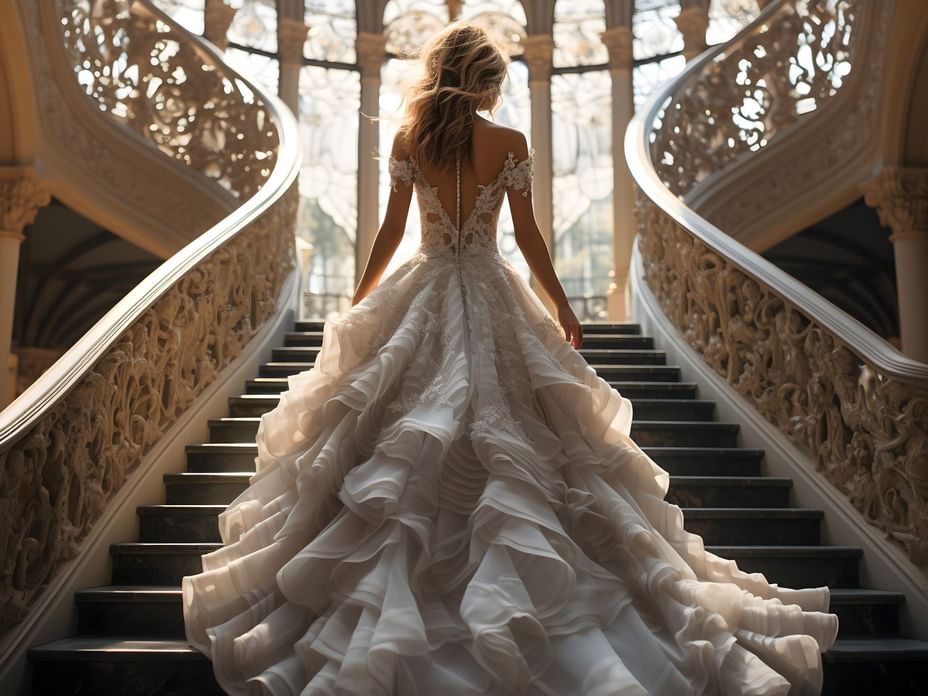 Your wedding day is a once-in-a-lifetime milestone with images that will be photographed and framed for a lifetime of viewing. That's why it's so important to choose your wedding attire carefully taking into account your venue, personalities, and what styles are trending currently.
After scouting designers' inspirations and Fashion Week's hottest looks, here are a few things to keep in mind when choosing your bridal attire.
Movie and Small Screen Inspiration
Over the years, we have witnessed how movies and television shows have influenced bridal attire. The rule-breaking and bold style of Carrie Bradshaw in Sex and the City had many brides choosing dresses with a wow factor. The 16-time award-winning show Mad Men inspired vintage attire for both brides and grooms during its run on television. And we can not forget The Crown's inspiration of exquisite floral embroidery, and classic long sleeves for brides.
Currently, the much-beloved television series The Bridgertons is inspiring a whole new trend in bridal attire. The Bridgertons takes place in London during the Regency era and the attire highlights the fashion of this time. The romantic look of an empire waist bridal dress has suddenly taken over the bridal shops in recent years. In addition to empire waist popularity growing so too has the chiffon skirt, puffed sleeves, and fitted bodice have taken the bridal world by storm.
If you are looking to recreate a Bridgerton-style wedding attire explore the options on the website The Knot and Brides.
Backless Dresses
In earlier decades, brides were looking for some bling in the front and poof on the skirt. Now, more than ever before, brides are looking for backless dresses or plunging backs as statement pieces. Many brides are looking for that wow factor as they dance or process to their partner and this trend has guests wowed by the design.
Short & Long Sleeves
In past years many brides were on the hunt for strapless or dainty straps for their bridal gowns. Now there is a trend toward statement sleeves. From lace designs to puffy and frilly, brides are embracing the covered arms for the ceremony. Some dresses even have an overlay with a lace or sheer coverup for the ceremony that can be removed for a new look but the same dress during the reception!
Florals & Patterns
Most of us envision floral dresses of the 1980s and 1990s when we think of florals, but today's brides are reimagining florals for their bridal gowns. From colorful florals on the train and veil to delicate embroidery on the bodice, brides are choosing florals more and more. Florals add a bit of whimsical design and a sense of romance for many brides.
For more trending options as we head into 2024, check out the designers and fashionistas at the Knot and Brides.