Should You Hire A Wedding Planner?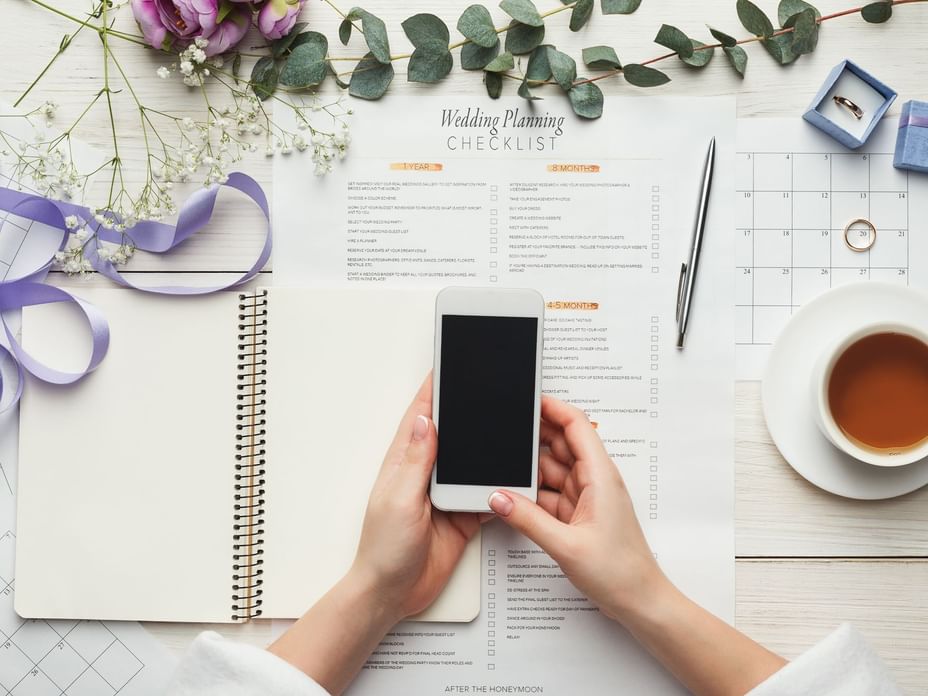 Your wedding day will be one of the happiest and most memorable days of your life! It is also a fairly complex day filled with lots of details and moving parts that need to fit together well in order for the day to run smoothly.
As you start planning the details of your big day, including organizing, and dealing with vendors, guests, and wedding party members, you may find that it all may be too overwhelming. It may have you wondering if you should hire a wedding planner to help with all these details so that the day will be all you dreamt it could be.
Let's explore what a wedding planner does, the different types of wedding planners as well as the pros and cons of hiring for this critical role in one of your life's largest milestones.
What Is A Wedding Planner?
Wedding planning specialists come in all varieties. Some handle all the planning and details from the moment of the engagement up through the day of the wedding, while other wedding planners come into play only during the month or two before the wedding date. Others still are merely hired to help coordinate on the day of the wedding and keep things running smoothly.
Wedding planners offer services that run the gamut from planning and organizing every last detail (with input from the wedding couple) to those who execute plans that are already put into place in the months prior to the big day.
Types of Wedding Planners
Couples often choose a certain type of wedding planner based on their desired level of input from a professional and their willingness to do some of the work themselves.
Full-service or All-Inclusive Wedding Planners go through the planning process step-by-step with the couple and will take on most of the calling, organizing, scheduling, and nitty-gritty details to alleviate the stress for the couple.
The Month of the Wedding Planners tend to have less to do with the major choices of the day such as choosing a venue, DJ/band, or florists, and more to do with handling the final details and "day-of" coordination. This person handles confirmation of vendors, guests count, confirmation of the order of the day, and all those last-minute things that can pile up in the days and weeks before the wedding.
Wedding Day Coordinators, on the other hand, take over only on the day of the wedding or the weekend of the wedding. On those days they handle all the coordination, communication, and any issues that may arise. All the planning, however, has been prior to this coordinator stepping in.
Destination Wedding Coordinators handle weddings that are happening far away or at a distance such as a tropical wedding in Fiji or Thailand. These coordinators often have connections with vendors in the destination location or travel there themselves to handle the planning.
The Pros and Cons of Hiring a Wedding Planner
Every wedding, like every couple, is unique. Factors that go into deciding whether you want to hire a wedding planner include your budget, time restraints, stress level, and negotiating ability.
Pros
Some of the benefits of hiring a wedding planner include the reduction in the amount of stress that the couple will feel in the months and weeks leading up to their wedding day. Having a planner can mean there is an experienced planner on your side looking out for your best interests.
Having an expert helping with the planning means that many of the common mistakes of wedding planning will be avoided and there will be someone to call on for advice or an experienced opinion for some of the larger decisions. Wedding planners also tend to have a large listing of vendors that they trust to call upon for your desired aesthetics or needs for your wedding.
Cons
Some of the cons of hiring a wedding planner include the expense that can be incurred depending on the level of involvement you want from your planner. If your planner is there for every decision and appointment from dress fittings to tastings of menu items, the cost can be prohibitive. Additionally, if you don't find a wedding planner that has your vision for the big day, you may end up clashing and creating more stress than if you planned it all on your own.
Wedding planners can provide much-needed guidance during this exciting (yet overwhelming) planning process. Talk to your venue, friends, and relatives about their experience with a wedding planner before you decide what kind you may want to employ.