Bridal Tips for a Beach Wedding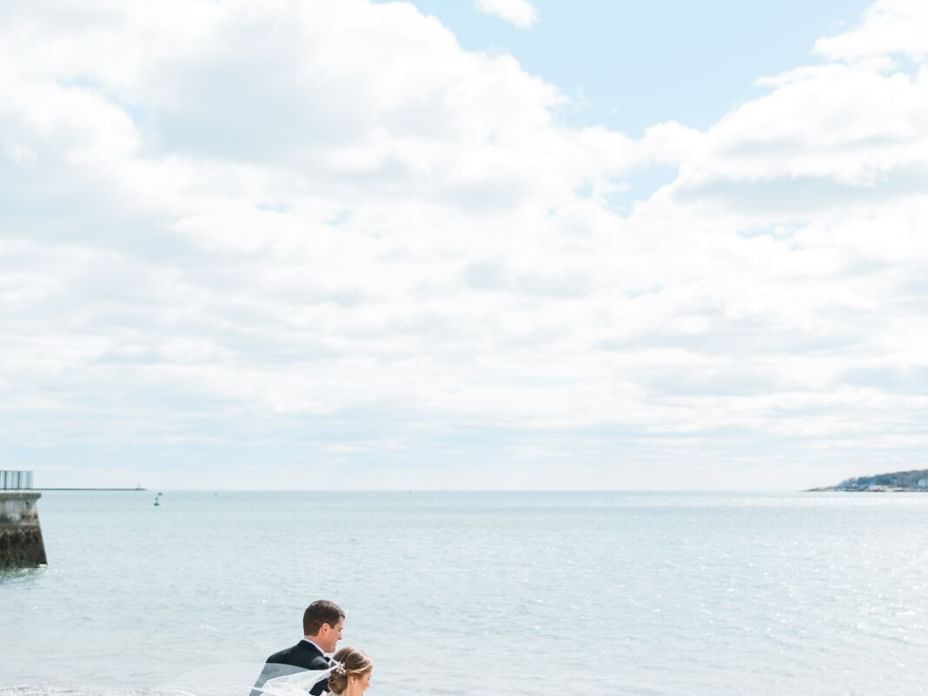 Dreaming of a soft sand beach as the location for your wedding day? What's not to love about the beach with its salty warm breezes, the gentle sound of the waves lapping on the shore, and the beautiful water as the backdrop for the photos that will last a lifetime?
Beach weddings are incredibly popular, especially on Cape Ann during the summer months. From the boats on the water to the smells and sounds of the ocean, it is such a unique experience to say your "I Dos" in such a stunning location.
If you have chosen a beach wedding for your ceremony venue, there are some special considerations that you may want to keep in mind.
Prep Your Guests
Planning a beach wedding means special attire consideration for both your wedding party and the wedding guests. Prep your guests by letting them know it will be a beach ceremony and reception or a ceremony on the beach followed by a reception at a neighboring venue.
This may mean wearing more beach-appropriate attire such as more casual dresses for the women or khakis and dress shirts for the men. It may also mean flip-flops, sand-loving footwear, or footwear optional!
Guests should also be made aware of the beach location so they plan to wear sunscreen, bring a sun umbrella, or apply makeup that will last in the warm weather.
Plan For the Tides & Weather
Beaches can be lovely until the sand disappears during high tide or seaweed gets left onshore during low tide. Visit your beach destination in the months prior to your wedding in order to determine what it is like during both low and high tides to plan when might be best for your ceremony.
Weather in New England can be fickle and can change on a dime, so try to choose a month with the lowest likelihood that a shower could dampen your day. Make a backup plan in case storm clouds roll in or sprinkles start.
Beaches that are located near your reception destination could be a backup plan for your ceremony or a tent could help you stay on the beach until the sprinkles pass.
Pick Your Location Near Your Reception Venue
Being on the beach can be beautiful and relaxing, but too much time on the sand and in the sun can be exhausting. Plan your beach wedding near your reception venue so that guests have restroom options and a place to go when the beach ceremony is over.
Plan For Rentals
Unless you plan to ask your guests to BYOBC (bring your own beach chair), having rental chairs, a sound system, and a focal point on the sand may need to be rented in order to create the vision you desire.
When scheduling your rentals, ask about tents in the case of foul weather as well as consider if your rental company will do the set up and clean up for you. This will allow the wedding couple to enjoy the beach and move on to the reception without worrying about the rental items left behind.
Plan Your Makeup & Hair
Beaches may be scenic and lovely but they can also be hot and overly windy depending on the forecast weather. Plan your makeup and hair with that in mind. An updo and SPF makeup foundation may be helpful and have you feeling cool, yet appropriately made up.
Are you planning a beach wedding? Talk to our team at Beauport Hotel in Gloucester to make your dream beach wedding come true.