Satisfy Your Sweet Tooth on Cape Ann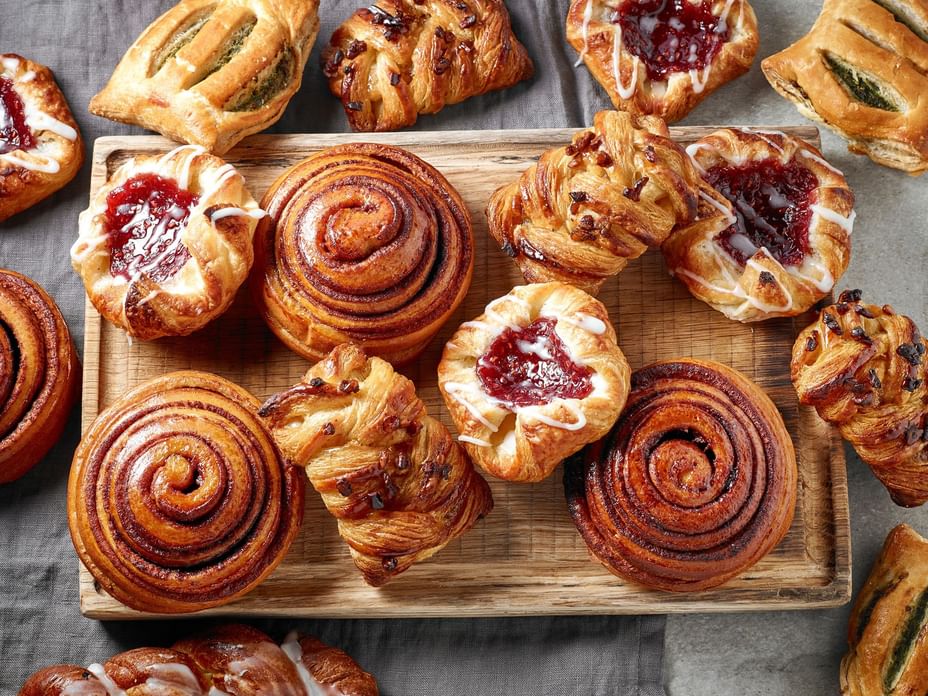 Do you crave the pure sugary sweetness of cakes, donuts, cupcakes, ice cream, pastries, and (of course) candy? If so, then Cape Ann is a perfect area for you to discover the endless shops and bakeries that can satisfy your sweet tooth!
No matter the season you plan on visiting Cape Ann, among the beautiful seaside communities that make up this region you will find a copious amount of cafes, shops, and bakeries to get your taste buds tingling. Go ahead and indulge a little.
Here are some of our favorites to get you started.
Bakeries on Cape Ann
If you are feeling nostalgic and want something that looks, smells, and tastes just like your grandmother used to make, then a visit to the many bakeries on Cape Ann is a must.
Caffe Sicilia on Main Street in Gloucester will have you feeling like your Italian nonna has made your favorites - biscotti, cannoli, tiramisu, and zeppole! This family-owned bakery sitting right in the heart of Gloucester will have your blood sugar zinging and get those dopamine levels soaring!
Cake Ann, also in Gloucester on Eastern Avenue, is known for its amazing cakes for special occasions and for "no reason at all." Check out the full menu of cakes, cupcakes, desserts, pastries, and other tasty treats!
As you explore the sights and streets of Rockport, you may want to take a caffeine and dessert break at Brother's Brew on Main Street. If you love the delicious taste of scones, muffins, danishes, croissants, or other breakfast specialties, you won't want to miss Brother's Brew.
If traditional bakery treats are your go-to when you have a sugar craving, then Virgilio's Bakery on Main Street in Gloucester is the most traditional Italian bakery you'll find on the North Shore. From freshly baked bread to delectable cannolis, Italian cookies and so much more. You will feel like you stepped into your nonna's kitchen!
Candy Shops
There's nothing quite like the taste of freshly made candy and Cape Ann has some shops you will want to visit next time you are in town.
As you drive up the picturesque highway to Gloucester and Rockport, you will notice Nichols Candy shop as you head into Cape Ann. This traditional candy store is a chocolate lover's dream. The smell alone, when you enter the store, will be enough to have you smiling for days. From dark to milk chocolate candies to fudge, turtles, and caramel delights, Nichols has a huge assortment to please the whole family.
Fudge enthusiasts will want to visit Bearskin Neck in Rockport where they will find Rockport Fudgery. You can watch while Master Fudge Makers create country kettle-style fudge using only the freshest cream, finest chocolate, and purest sugar.
Located in historic Gloucester on Rogers Street, you will find Turtle Alley Chocolates. There you can purchase some of the finest handmade turtles, caramels, fudge, toffee, and more made right on the premises!
Ice Cream Shops
Who doesn't love the creamy goodness of an ice cream cone, a sundae, or a smooth frappe, especially during the dog days of summer and beyond?
Holy Cow Ice Cream Cafe, located on Pleasant Street in Gloucester is an absolute must-stop for ice cream lovers. Not only does this unique ice cream shop constantly come up with new flavors to baffle even the most experienced ice cream aficionado, but they will make your made-to-order waffle cone right in front of your eyes. Enjoy nostalgic junk food from your childhood and introduce your children to the candy of your youth!
Long Beach Dairy Made on Thatcher Road in Gloucester has been in business since 1958 and offers 28 flavors of gourmet soft serve! They also have 75 flavors of hard-pack ice cream that will have you coming back to taste each flavor the next time. If that's not enough for your sweet tooth, they also ​​serve non-fat soft yogurt, sorbet, sherbet, frozen yogurt, fruit smoothies, frappes, flurries, icebergs, espresso mocha blasts, iced cappuccinos, slush, and more.
Cape Ann, including Rockport, Essex, Manchester-By-The-Sea, and Gloucester offers not only picturesque oceanside views but a host of shops, cafes, and small businesses with the entire mission to satisfy your sweet tooth. Keep this list for your next visit and make it a goal to taste them all! C'mon, indulge a little.