Take a North Shore Brewery Tour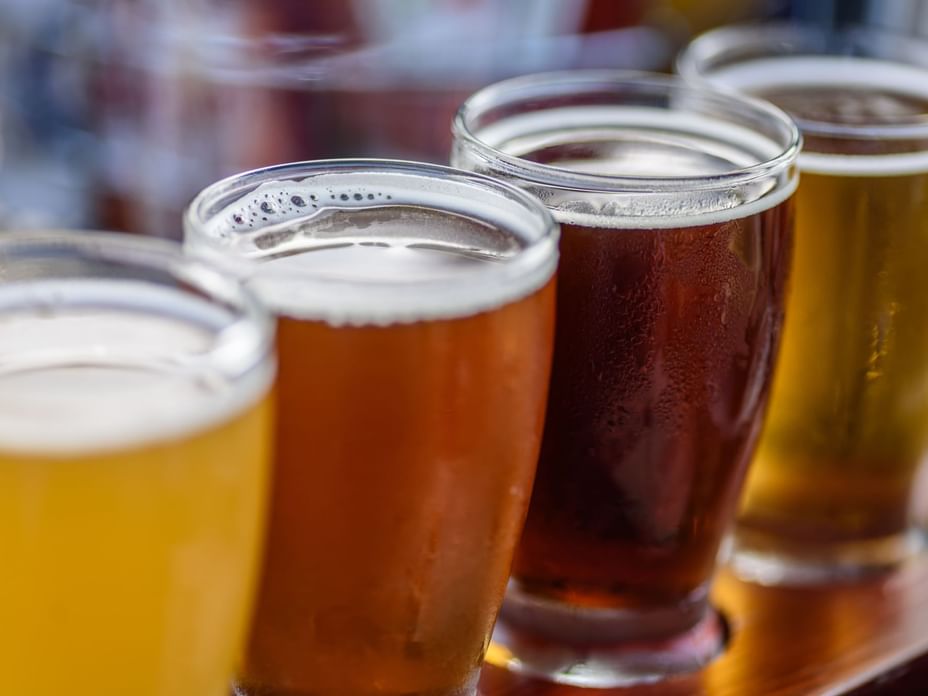 Take a North Shore Brewery Tour
Did you know that brew houses and breweries have been around since the time of the Romans when locals would sit around public squares to debate politics and enjoy a brew, or two? Brewery history in America has developed in a similar manner in that it is a relaxing place to gather with alternative beverage options other than what's offered at a typical coffee shop.
The North Shore of Massachusetts is a perfect place to delve into the unique brews and brew houses as there are many on Cape Ann and the wider North Shore. Let's explore some of the popular breweries where you can explore what's on tap.
Great Marsh Brewing Company
Located just seven miles from the Beauport Hotel is the Great Marsh Brewing Company. This state-of-the-art brewery overlooks the Great Marsh in Essex, Massachusetts giving visitors a chance to try some amazing brews while enjoying the spectacular views.
Great Marsh Brewing Company is a great place to stop for one of your favorite brews whether it is a pale ale, blonde, stout, pilsner, or lager as well as fill up on some comfort food. Spend the day in Essex browsing the antique shops and take a break to sample some of your favorite locally brewed beer.
Besides the relaxing venue and the tasty American pub food, you will enjoy seasonal options such as the Classic Milk Stout or the Belgian Blonde that were popular this summer. Then there are the traditional options such as the Classic American Pale Ale, West Coast IPA, Mexican Lager, Vanilla Stout, Classic Dublin Stout and so much more.
If you like seltzers, try the SpaB Seltzers that are ​​handcrafted using fruits such as acai, blueberry, lemon, mango, peach, raspberry, and watermelon.
For the full menu and brewed options check out the offerings here.
True North Ale Co.
Located at 116 County Road in Ipswich, Massachusetts, the True North Ale Co. is named in honor of the region's four hundred years of maritime history. The taproom offers seating both indoors and outdoors on the patios through the warmer months.
Offering a wide range of beers from seasonal offerings to year-round taps as well as Cans-To-Go, True North lives up to the hype. In fact, their website explains some of the recent accolades given to the company.
"True North Ales have earned major accolades each of the past five years. Our Vincianne Belgian Blonde Ale won the Gold Award at the 2018 World Beer Cup, Gold Medals at the 2022 and 2019 North American Brewers Association International Competition (NABA), and a Silver Medal at the 2021 NABA."
Additionally, they note that the Cerveza Mexican Lager earned a Gold Medal at the 2021 Great American Beer Fest (GABF) as well as Silver Medals at the 2022 Best of Craft Beer Awards, 2021 NABA, the 2020 GABF, and the 2018 New York International Beer Competition, where they were named Massachusetts Lager Brewery of the Year.
The flagship Northern Haze Juicy IPA won a Bronze Medal at the 2021 GABF and a Silver Medal at the 2019 NABA.
We encourage beer enthusiasts to check out some of these brews and enjoy an afternoon or evening with good friends at True North.
Ipswich Ale Brewery
Located at 2 Brewery Place in Ipswich, Massachusetts, Ipswich Ale Brewery is yet another option for a day of touring breweries on the North Shore of Massachusetts.
Ipswich Ale Brewery has been crafting delicious ales and lagers on Boston's North Shore since 1991. Ipswich Brewery's diverse portfolio of beers has developed into a tradition shared not only by residents of eastern Massachusetts but across New England. Currently, Ipswich Ale features 15 tap lines and a diverse menu with a mix of tastes ranging from brewpub to New American cuisine. They recently announced a new merger between Essex County Brewing Company and Ipswich Ale Company which will allow for what they are calling a "Craft Brewing Alliance." This means more options and services for patrons who have come to love both breweries.
For a full menu of seasonal and year-round offerings visit the list of what's on tap tonight on their website.
If you love taprooms and want to explore further beyond Cape Ann and the North Shore check out Backbeat Brewing Company, Notch Brewing, and Coastal Mass Brewing for more options on your brewery tour.