Hiking Trails and Paths - Cape Ann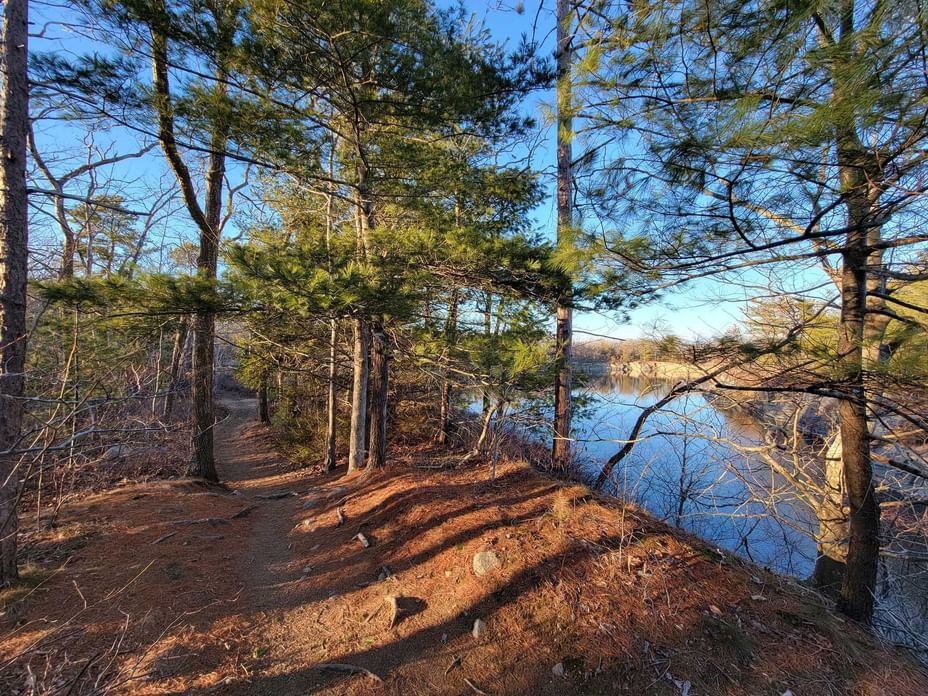 When we think of hiking, we often envision the White or Green Mountains of northern New England. What if I told you that there are amazing scenic hiking trails and paths just 40 miles north of Boston that rival those found in the mountains?
It's true.
Cape Ann, including the towns of Gloucester, Rockport, and Manchester-By-The-Sea, have some of the most stunning and unique walking and hiking paths, some right along the seashore and others deep in the woods, that you must check out this spring. Bring your hiking boots, camera, some water, and your sense of adventure with you as you experience these hiking destinations.
Halibut Point State Park
Located at the outer tip of Rockport, Massachusetts Halibut Point State Park offers sweeping views from Crane Beach in Ipswich to Mount Agamenticus in Maine and the Isles of Shoals off the coast of New Hampshire.
The property is managed by the Trustees and the Massachusetts Department of Conservation and Recreation (DCR). The walking trails circle the site of the old Rockport Granite Company's Babson Farm Quarry.
While hiking the mile-and-a-half loop trail you will have the opportunity to admire the old quarry, the rocky shoreline, and tidal pools, and view the many wildflowers that bloom each spring and summer.
Find directions and a downloadable map of the area at the Massachusetts Department of Conservation and Recreation.
Coolidge Reservation
Coolidge Reservation is located in Manchester-By-The-Sea and is part of Coolidge Point. With over 66 acres of terrain and a beautiful coastline as the finish line there is quite a lot packed into this walking path.
The Reservation was once the site of a large Georgian-style mansion and offers not only woodland walking trails but also a rocky shore, a freshwater pond, and large expanse of grassy lawn, and, on a clear day, views of the Boston skyline.
Learn more about directions and visit Coolidge Reservation.
Ravenswood Park
Located off Route 127 in Gloucester, Massachusetts, Ravenswood Park offers ten miles of crushed stone paths that meander through the woods allowing visitors to enjoy the 600 acres of conservation land in solitude or with a group.
While the loop trail measures approximately two miles there are over ten miles of paths to explore along with hemlock groves, wildflowers, magnolia swamps, and historical remnants of Colonial habitation in the region.
Take a leisurely walk or step it up a level to break a sweat while you enjoy the local scenery.
Dogtown Common
Located in central Gloucester and stretching into Rockport, Massachusetts, Dogtown Common is about five square miles of hiking and walking paths right in the heart of Cape Ann.
Dogtown Common is unique in its characteristic boulders, left behind when the glaciers melted, each with its own unique inspirational word or phrase. The trail runs through woods, quarries, and quite literally an abandoned town rich with Cape Ann history. In fact, the trail takes you directly through a colonial settlement that was active from 1693 through 1830. Take photos of the boulders, explore the history, and enjoy a day in the woods of Cape Ann.
Cape Ann offers many walking and hiking trails for outdoor enthusiasts of all skill levels. Visit each site online and print a map to help you navigate the trails and enjoy the scenic woods and rocky shores of Cape Ann.