Hidden Gems of Gloucester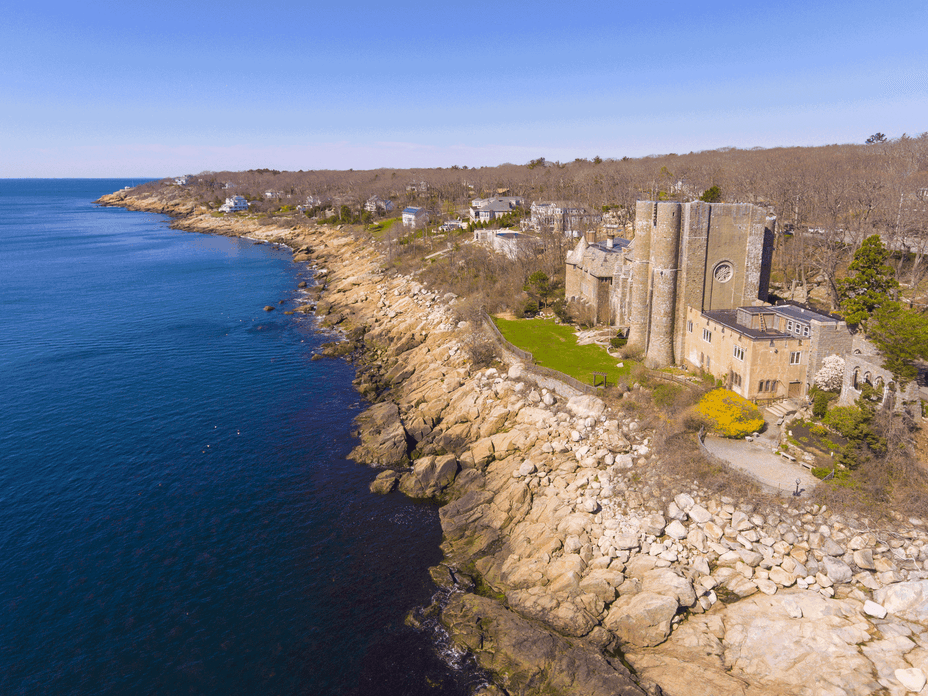 Sometimes exploring communities during the height of the tourist season can leave you feeling rushed and unable to see the beauty that surrounds you. That's why the winter months are so special on Cape Ann and in Gloucester in particular. With the majority of tourists out of the way, Gloucester is a perfect place to explore and find some truly hidden gems that will have you coming back for more.
The uniqueness of Gloucester is not lost on anyone who visits. But some places need to be seen and explored further to truly comprehend just how one-of-a-kind this community is. The history of the region can be explored through Hammond Castle Museum, a medieval castle that overlooks the Atlantic or the Beauport, the Sleeper McCann House, a National Historic Landmark perched above Gloucester's Harbor. And then there are the rare finds that can be discovered in the shops and restaurants along Gloucester's Downtown area. Or, take the time to explore a ghost town in the woods of Gloucester. There are so many hidden gems to discover in America's Oldest Seaport that it may take you more than one visit to uncover them all.
Hammond Castle Museum
Located along Route 127 in Gloucester, MA is the truly unique Hammond Castle Museum. This museum is a former home of John Hays Hammond, Jr., an inventor, scientist and art connoisseur. The building itself boasts an architectural style that is a mix of a medieval castle, French chateau, and Gothic cathedral.
Due to his extensive European travel and studies of the Renaissance and Medieval eras, Hammond purchased a broad collection of artifacts for display and created his residence around large stone archways, windows, wooden facades, and other architectural elements from the Old World.
This hidden gem is open to the public for guided tours or self-guided tours where the artifacts can be examined and you can get a peek into what this time was once like. Please visit the tour page to confirm the times and dates the museum is open as it changes during the off-season.
Beauport, the Sleeper McCann House
Located at 75 Eastern Point Boulevard, perched on a rock ledge overlooking Gloucester's working harbor, you will find the Beauport, the Sleeper McCann House. This historic New England home is a National Historic Landmark and is the former home of one of America's first professional interior designers, Henry Davis Sleeper. The Beauport was Sleeper's retreat home where he entertained and kept a lifetime collection of curiosities, colored glass, folk art, china, and silhouettes in every nook and alcove.
During the months of May through October, visitors may tour the forty visually dazzling rooms or access a virtual tour that can help explain the uniqueness of each space.
Visit a Ghost Town
Not many communities can lay claim to a ghost town within its borders. Once again, Gloucester shows its uniqueness in its featuring of just such a place called Dogtown.
Dogtown was once a community settled by early farmers who wanted to live away from the harbor to avoid any attacks by enemies. The population of the area was mostly the wives and widows of seamen who worked the land with their dogs, who protected them - hence the name Dogtown. The area was abandoned during the War of 1812.
Today, travelers can walk the paths and see boulders with inspirational ideas and sayings. Explore Dogtown Center and learn more about this unique piece of history in the woods of Gloucester, MA.
Unique Shops & Restaurants
Haven't had enough of the hidden gems of Gloucester? Take a stroll through the streets of downtown and you will find some uncommon stores, coffee shops and dining options that will keep you on your toes!
Some of our favorite finds include Turtle Alley Chocolates where you can buy some of the finest handmade turtles, caramels, fudge, toffee, and more. Or, if you are looking for gifts The Brass Monkey offers fine gifts, unique apparel, antiques, and seasonal treasures. If you are searching for one-of-a-kind jewelry, Beth Williams Handmade Glass Bead & Jewelry offers contemporary, elegant jewelry highlighted by a rainbow of colors and textures.
What hidden gems will you find while exploring Gloucester? Let us know!