Celebrate the Winter Holidays on Cape Ann
Experience the charm of winter on the North Shore.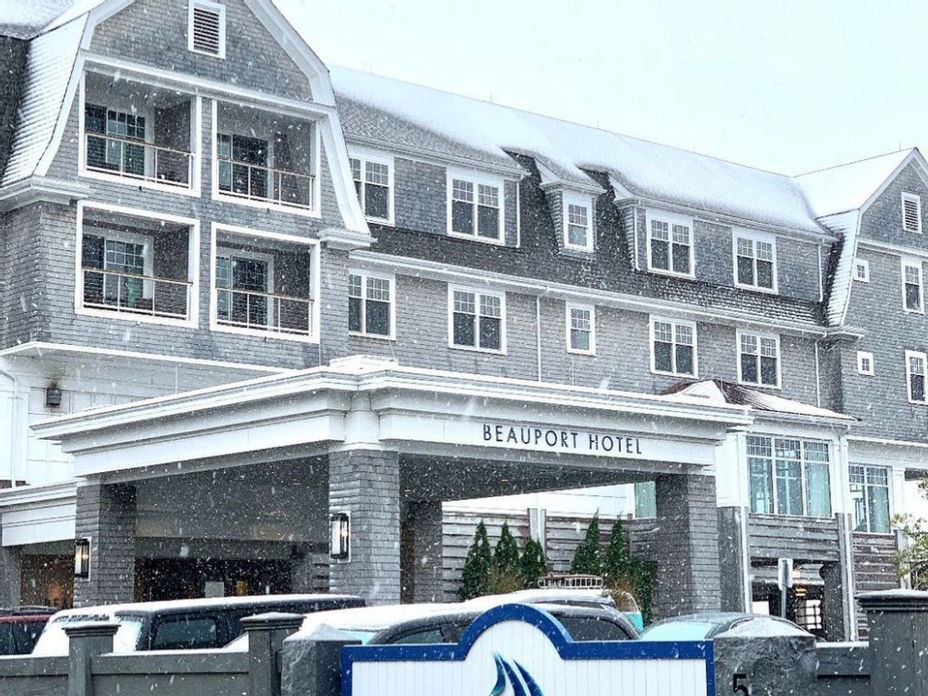 Most people can easily imagine how they might spend a spring or summer day in coastal Gloucester or Rockport, Massachusetts. From enjoying the sandy beaches and historic lighthouse tours to boating, fishing, biking, hiking, and all sorts of shopping, these warmer months are amazing on Cape Ann. The list of fun outdoor activities and places to visit is nearly endless.
But, did you know that Cape Ann is incredibly active and full of events long past the Labor Day weekend? Even after the first snow flies, Gloucester and Rockport have many unique and entertaining activities that attract not only locals but people from all around the region and country.
The holiday season is especially beautiful as the shops, hotels, and residents go out of their way to welcome visitors to this quintessential New England coastal city, rich in history and filled with activities for all ages. Here are just a few of the holiday happenings at Beauport Hotel this season.
Boxwood Decorating Workshop
Grab your holiday spirit and a few friends for our Boxwood Decorating Workshop on November 30th at 6 pm to kick off the holiday season!
During the workshop, you will design and arrange your very own holiday boxwood tree centerpiece to celebrate the holiday season! Enjoy the Beauport bar and nibble on bar bites while mingling with friends and doing something creative. Tickets can be purchased HERE.
Beauport Jingle Bar
The holidays mean good food, good friends, and (of course) great cocktails. Join our unique pop-up cocktail bar aptly named the Jingle Bar.
Enjoy a seasonal cocktail, sip champagne, savor some scrumptious light bites and sit by the crackling fire after a day of holiday shopping. We promise you'll relax and unwind during this busy holiday season.
We'll be hosting our Jingle Bar on Wednesday evenings starting after Thanksgiving and going right up until the week of Christmas. Join us on Wednesdays including - November 30th, December 7th, 14th, and 21st from 6:00 - 9:00 pm. No need to register, just show up ready to enjoy the sounds of our piano entertainment and sip on one of our signature cocktails.
Wreath Making Workshop
It wouldn't be the holidays without a beautiful wreath adorning your front door! Join us on Thursday, December 1st, at 6:30 pm for an evening of making an elegant holiday wreath with Meredith McCarthy from Meredith McCarthy Floral Design & Event Styling.
You may have seen Meredith's work all around Beauport Hotel as she is our floral designer for all our holiday decor!
Using grapevine as your base, Meredith will guide you through designing your own stunning wreath with winter greenery, berries, and a custom bow to match your style. Tickets can be purchased HERE.
Gloucester Ladies' Night Shopping Event
Need a reason to get together with your besties? Gloucester's Ladies' Night is just the reason to gather your gal pals and set your sights on shopping in beautiful Gloucester.
Join us at the Beauport Boutique for Gloucester's annual Ladies' Night on Thursday, December 1st from 5:00 to 10:00 pm. Toast to the season, enjoy a bite to eat at 1606 Restaurant & Oyster Bar, and shop our incredible holiday collection!
If you want to make a night of it, book a few rooms to spend the full evening with the best of friends! Don't forget to explore our winter room packages and spend some much-needed time sitting by the fire with good friends and beautiful surroundings.
Holiday Book Reading - The Tree in Dock Square
Every year as we celebrate the holiday season, we choose a book to feature in a live narration. We transform our Pavillion Room into a whimsical winter wonderland setting and let the magic begin.
Bring your young ones to Beauport Hotel on December 6th at 4:30 pm for some Christmas cheer as we provide free hot cocoa, and yummy seasonal treats, and there may even be a visit from St. Nicholas himself! There is limited capacity so please RSVP via Eventbrite.
Gloucester Men's Night
As we get closer to holiday gift giving, it seems appropriate to host a Gloucester Men's Night to help with the gift suggestions. Whether just starting on your list or checking it twice, this night in historical Gloucester may be the most enjoyable way to wrap up your shopping for the season.
Join us for our annual Men's Night event on Thursday, December 15th from 5:00 - 10:00 pm. Enjoy refreshments, special discounts, and a fun shopping event with your best pals! There may even be a chance to grab a pint with some of those friends!
Stay Over & Make It An Evening To Remember…
Want to make your evening last a little longer/ Consider staying an evening or two with us. We offer several packages during the winter months including the Seniors at Sea, Home for the Holidays, and Winter Wonderland packages. Inquire about these exclusive deals upon registering and enjoy a special holiday season at the Beauport Hotel.
We love this special time of year not just for the scenic vistas, twinkling lights, and scrumptious foods, but for our love of spending it with our guests who become like family. Happy Holidays from the entire team at the Beauport Hotel.